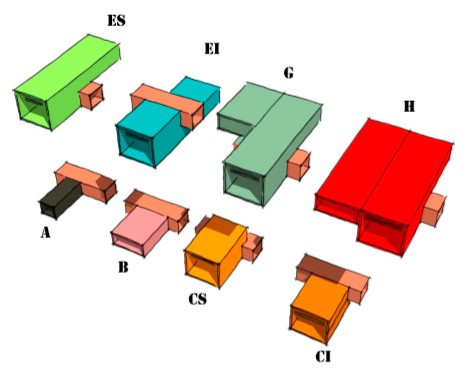 The Unité d'Habitation of Marseille is comprised of
337 flats in 23 different styles
, designed A to H. They are designed to house families of one to ten people. Cell type A measured 15.50 m2 (166.8 sq. ft) is the simplest model. The B type is made of two cells joined together. The pattern continues up to type H which measures 203 m2 (2185 sq. ft).
Type E flats are the most frequent. Designed to house a family of four, it measures 98 m2 (1054 sq. ft). There are however 2 variants of the E type: ES or E type Superior flats which are the flats on the east side of the building having a second story above the interior street; the EI or E type Inferior on the west side have a second story below the interior street.
Inaugurated on
October 14, 1952
Construction began on

December 27, 1947
Each cell length

20,95 meters
Each cell width

3,66 meters
34 stilts each measuring 8 meters high
Cité Radieuse important dates
September 1947: Start of construction on the first U.H. "Unité d'Habitation" Le Corbusier in Marseille
October 14th 1952: Eugène Claudius Petit, the Minister of Urban Reconstruction, awarded Le Corbusier with title of Commander of the Legion of Honor to celebrate the completion of construction
1953: creation of the residents' association of the U.H. of Le Corbusier
1954: the Cité Radieuse was divided into units and sold by the State to become a condominium
1986: the facades, hallways, streets, a flat and the roof terrace of the Cité Radieuse have been listed as Historic Monument.
2016: Part of the work of Le Corbusier to which the U.H. belongs to, has been designated as a UNESCO World Heritage Site.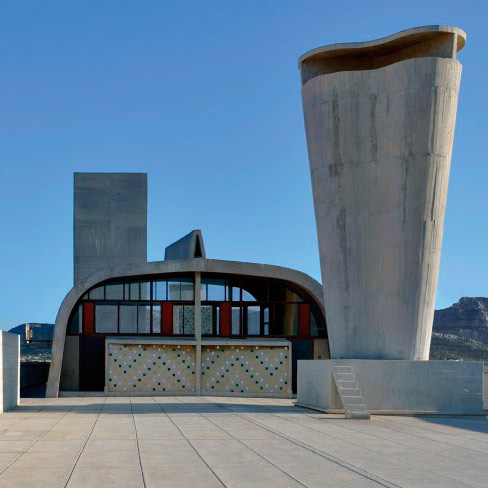 Cité Radieuse by the Numbers
About 1,000 residents and professionals move through the Cité Radieuse each day. The Modulor is a reference unit of measurement that the building design is based on. It is represented by a man that is 1.83 meters tall, with his arm raised making it 2.26 meters total. This corresponds to ceiling height in the flats. The standard flat is 24 meters long by 4 meters wide. It crosses the building from east to west over 2 floors. 34 concrete piles each support 2,000 tons and allow the circulation of the fluids flow. The building measures 137.18 meters long and 56 meters high, the equivalent of 12 whales aligned head to tail and 12 giraffes one on top of the other! The building has 18 levels divided over 9 floors that are serviced by 3 lifts and a freight elevator.
The underlying theories
on which the Cité Radieuse is built
335 out of 337 flats are not classified as historical sites and can therefore be modified by the owner
within the limits defined by the condominium corporation.
Le Corbusier : « oser et vouloir créer »
Le Corbusier, de son vrai nom Charles-Edouard Jeanneret, est né en 1887 dans le jura Suisse. Toute sa vie sera marquée par son rapport à la nature : lumière, paysages, perspectives, couleurs,…
Stage chez les frères Perret, nombreux voyages, rencontres multiples sont la base de sa formation et de sa passion pour la lumière, un style dépouillé, ainsi que le goût de l'harmonie.
En 1907, la visite du monastère d'Ema, près de Florence, lui inspirera cette phrase : « Je voudrais toute ma vie habiter ce qu'ils appellent leurs cellules. C'est la solution […] du paradis terrestre. ».
Cette expérience le guidera notamment pour la conception des Unités d'Habitation, en gardant toujours un esprit créatif, innovant,… un précurseur !
A la fin de la deuxième guerre mondiale, dans une Europe détruite, l'urgence de la reconstruction et de la production de logements en nombre  s'impose. Raoul Dautry, alors Ministre de la Reconstruction et de l'Urbanisme, confie, en 1944, à Le Corbusier, la construction d'un immeuble expérimental qui serait le prototype d'un nouvel habitat social.
Pilotis, rues intérieures, loggias, toit terrasse et cellules traversantes à double niveau participent ainsi de l'œuvre architecturale de Le Corbusier. La première Unité d'Habitation de Marseille sera inaugurée en 1952. Quatre autres UH seront ensuite édifiées à Nantes-Rezé (1953), Berlin (1957), Briey en forêt (1959) et Firminy (1965).
From 1926, Le Corbusier develops in his writing and sketches an architectural concept that will be the keystone to all his work.
Some key elements of the concept: large bay windows the entire width of the room allow the full benefit of sunlight access to the environment; elevating the building on stilts frees up the ground below the building and the view; the roof top terrace offers leisure space away from the noise of the city: the sunshade allows the sun to enter the unit in winter and blocks it in the summer to keep the unit cooler.
The building was built on the principle of verticality to allow an equal light distribution as opposed to horizontal placed cities that take up lots of space.
Le Corbusier style of architecture is modern brutalism which uses basic building materials without a lot of covering or adornment. The raw concrete framework shows rich, innovative and decorative patterns. They can be found especially on the facades, the piles as well as in the entrance hall which welcome us in with a visual harmony of textures and lights.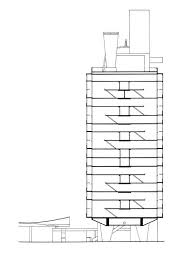 Le Corbusier revolutionizes construction and transforms the city from lying down into a standing city. In the 50's, some thought he was crazy. The Association for General Aesthetics in France moved to stop the project. Le Corbusier convinced the authorities that he had designed a collective housing structure that was easy to reproduce and capable of making its residents happy, a prototype.
And so, the "Machine à Habiter" or the "Machine for living in" was born and gave its residents many benefits: comfort, lightning, integral kitchen, etc … Everything was designed ergonomically to perfectly fit to the human body.
The building is also designed as an ocean liner that would allow a self-sufficient lifestyle by establishing shops in the central part building while leaving some place opened to outdoor life.
Madness or vision? the innovative qualities of the building appear today as evidence of his vision and still remain unique in the world.
The Unité d'Habitation of Marseille was born! This building has been classified as an Historical Monument and is on the UNESCO World heritage site list. It has 337 flats and inside renovations can be made within the limits defined by the condominium board.
We are in an architectural jewel of the 20th century.
The Modulor and the Golden Ratio
Ce nom est la contraction de module et du nombre d'or. Le nombre d'or (1.618) est utilisé dans l'art et en architecture, on l'appelle aussi divine proportion. Le Modulor symbolise l'occupation de l'espace par le corps humain. Le Corbusier a inventé là une unité de mesure basée sur les dimensions d'un homme de 1m83 pour déterminer les volumes de tout l'édifice. Cette unité de mesure est symbolisée par un homme le bras levé (2m23) incarné par le 
Modulor
.